Cheese Packaging
We are cheese packaging experts and understand the industry and its specific requirements.
Shelf Ready Cheese Packaging is a great way of getting your product from the packing line to the supermarket shelf with the minimum of fuss but with maximum impact. As one of the leading innovative UK cardboard box companies, Atlas Packaging is a specialist in cheese packaging, as our designers understand the industry and the specific requirements of transporting cheese.

We are also able to design and manufacture the boxes to include branding and logos that can be printed in up to six colours direct on to the cardboard both inside and out.

Our cardboard insulated products also ensure that cheese can be sent for home delivery without the need for any plastic to keep the produce in tip top condition.

The packaging we made for Saint Agur cheese (pictured) to go into the chiller cabinet in Lidl across the country won an award at the European Flexographic Industry Association Awards.
What are the benefits of cheese packaging?
Built for the chiller cabinets or insulated delivery packs
Pre-glued
Easy to open and fill
Delivered flat packed
Can be printed inside and outside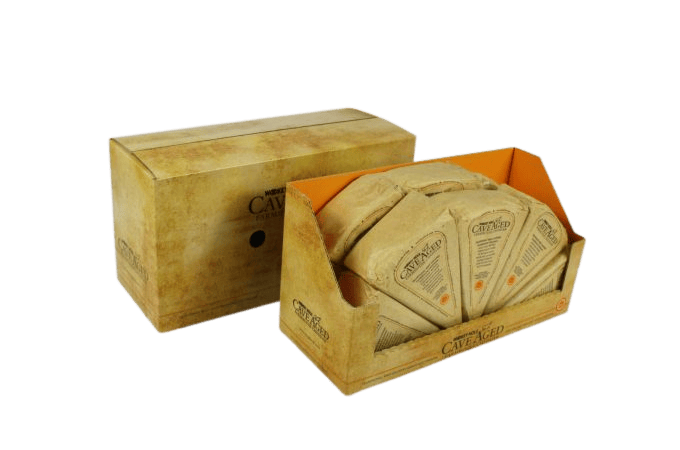 Champion UK cheese packaging
Atlas Packaging makes award winning cheese packaging. The corrugated cardboard Shelf Ready Packaging we made for Cave Aged Cheddar (pictured here) won best packaging at the British Cheese Awards.

That recognition is richly deserved as we have a long and established history of providing cheese packaging for some of the UK's largest producers. This experience brings with it a lot of knowledge about how cheese should be looked after during transit and on the supermarket shelf.

We are able to provide cost-effective corrugated cardboard packaging for producers of both soft and hard cheese, as we are familiar with the unique challenges each product presents.
Which packaging is best?
Cheese manufacturers who are looking for corrugated packaging generally opt for shelf ready packaging (SRP) which is also known as retail ready packaging, which offers cost-effective transit and retail packaging in one box. This means that it's quick to assemble and pack on the processing line before being sealed and sent out to the retailer in a ready-to-use box.

Once it arrives at the retailer the staff on the shop floor can then quickly and easily remove the perforated lid and place the box direct on to the shelf allowing the product to be seen. The carton can then be recycled once all the product has been removed.

Our video shows how easy it is for our packaging to be assembled and filled on the packing line.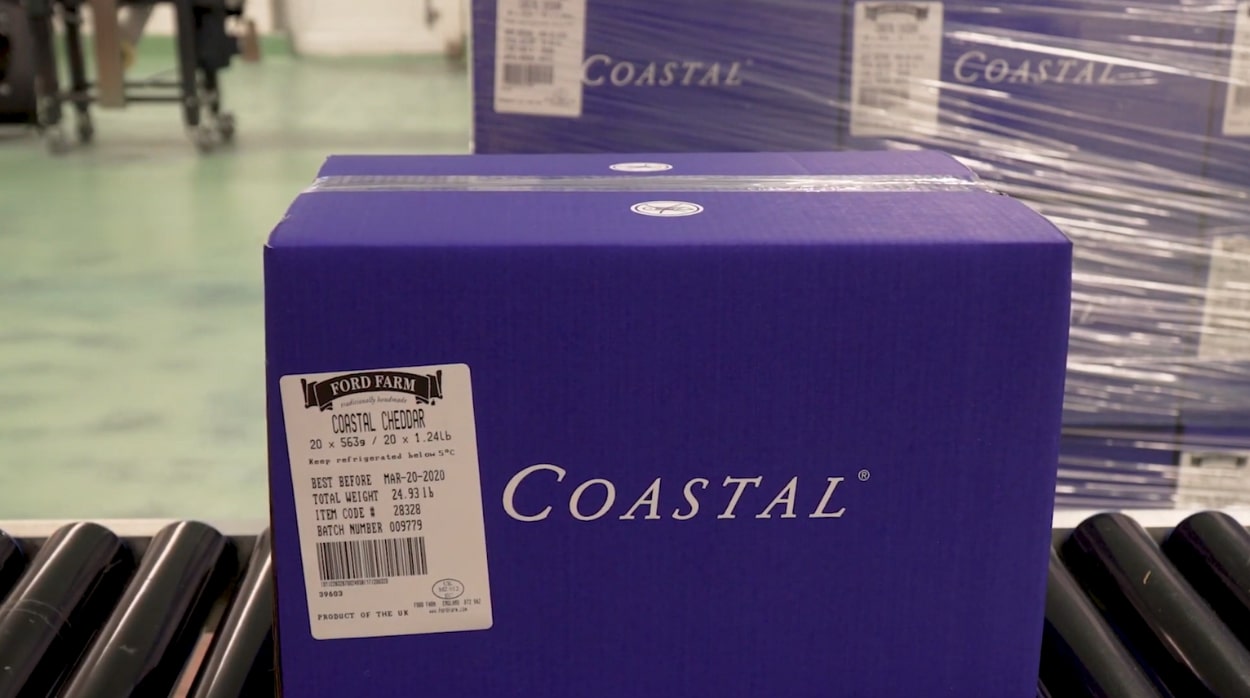 Looking to speak to one of our packaging experts?